Raz-AT

ATTENDANT TILT MOBILE SHOWER COMMODE CHAIR
The Raz-AT (Attendant Tilt) mobile shower commode chair tilts up to 40° to provide extra pressure reduction and comfort. The unique frame design utilizes locking gas springs that help lift the seat to an upright position, making the Raz-AT one of the easiest tilting mobile shower chairs to operate

.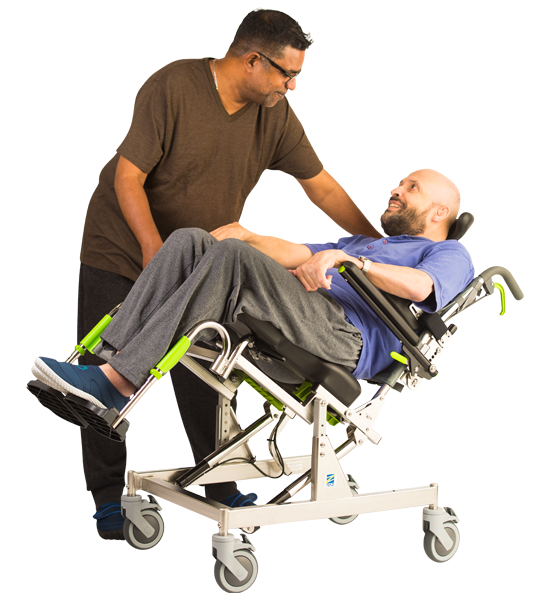 The Raz-AT Mobile Shower Commode Chair comes standard with the Ischial & Pelvic Alignment System (IPAS), multiple back options, dual-locking 5″ casters, flip-up padded armrests, and a commode pan. The easy-to-clean
stainless steel frame fits over most toilets and is designed with unobstructed side and front access for the user or attendant.
Moulded seat is contoured for pressure reduction and pelvic stability, with soft integral-skin foam for comfort and durability

Easy-to-clean, polished stainless steel frame fits over most toilets and is designed for easy side and front access by the user or attendant.

18″ base and seat frame width of so that the chair can still be positioned over a toilet

Comes standard with Raz's exclusive Ischial & Pelvic Alignment System (IPAS), provides 2″ (5cm) of fore/aft 1″ (2.5cm) of lateral seat adjustment
Seat frame tilts for extra pressure reduction and comfort, with locking pneumatic springs provides infinite adjustment up to 40°

Locking gas struts to facilitate tilting

Flip-Up Arm Supports with optional locks

Adjustable Pivot Posts provides 4″ of seat height adjustment without frame/toilet bowl interference
Raz-AT Attendant Tilt Mobile
Shower Commode Chair
TILT FUNCTION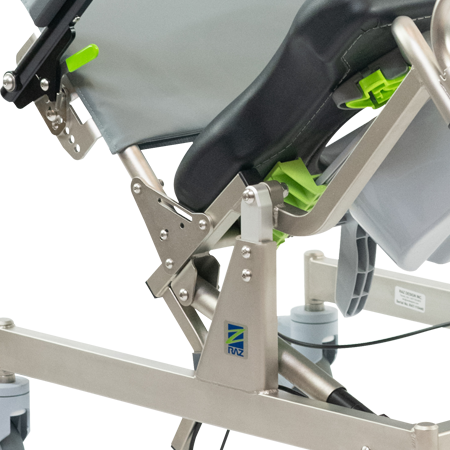 Seat frame tilts for extra pressure reduction and comfort

Locking pneumatic springs provide infinite adjustment up to 40°

Pressurized springs also help lift seat frame to an upright position

Conveniently located tilt triggers provide smooth tilt control
TILT ASSIST PEDAL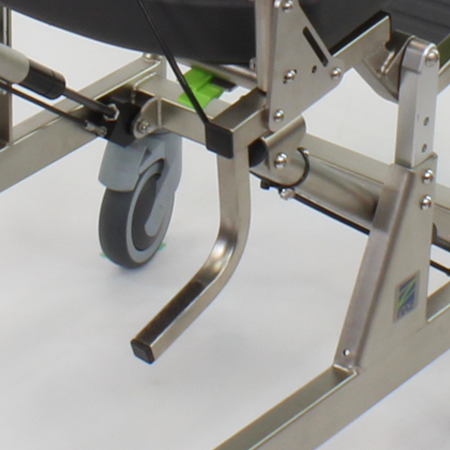 Helps attendant initiate tilt for heavier users or users with a forward weight distribution

Enables attendant to use additional strength from legs to tilt larger/heavier users

Solid stainless steel construction fits directly into chair frame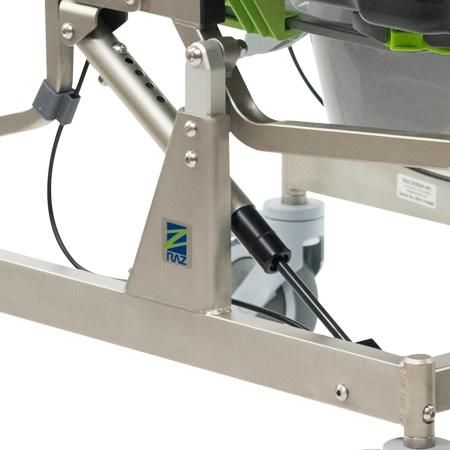 Provides 4″ of seat height adjustment without frame / toilet bowl interferance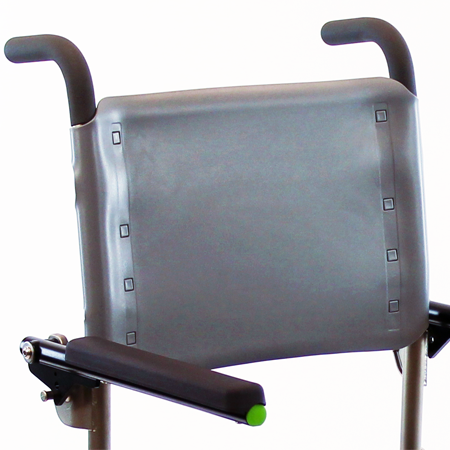 Includes adjustable tension fabric back upholstery

Includes flip-up, angle-adjustable arms

Available in 17" and 20" back heights

Locking armrest upgrade available
ISCHIAL PELVIC ALIGNMENT SYSTEM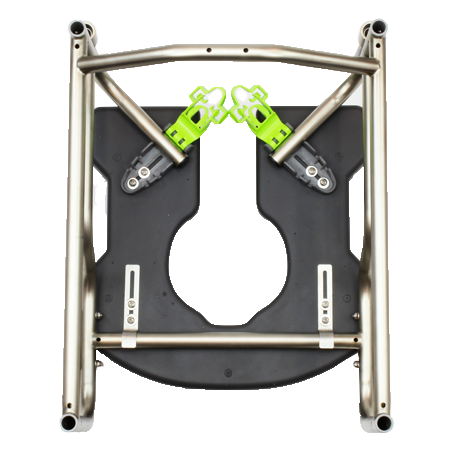 Provides 2" of fore/aft adjustment so the seat can be aligned with the pelvis

Allows centering of the aperture (opening) around the users' ITs

Seat locks in place for transfers

Removes easily for cleaning

Optional spacers for anterior or posterior seat angle adjustment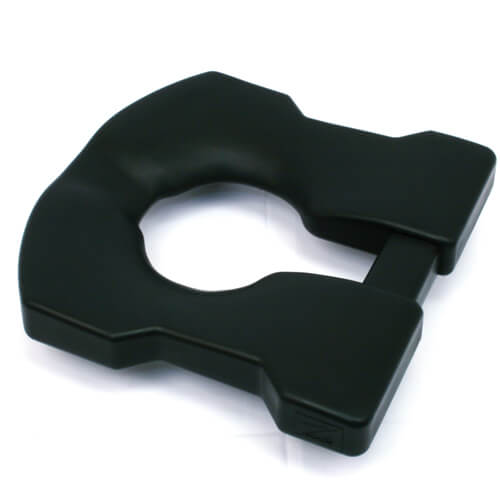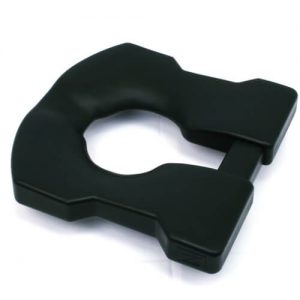 Contoured for pressure reduction and pelvic stability

Soft integral-skin foam for comfort and durability

Available with open or bridged front

Available Sizes: 18″ W x 16″ D, 18″ W x 19″ D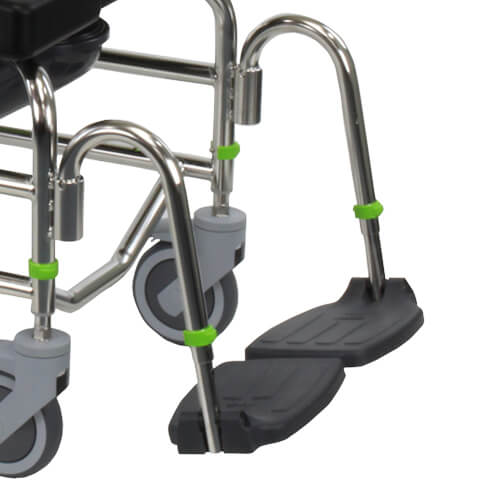 Removable for transfers and cleaning

Available in regular length 16″- 20.5" and extended length 18″- 22.5"
HEADREST (SMALL – STANDARD)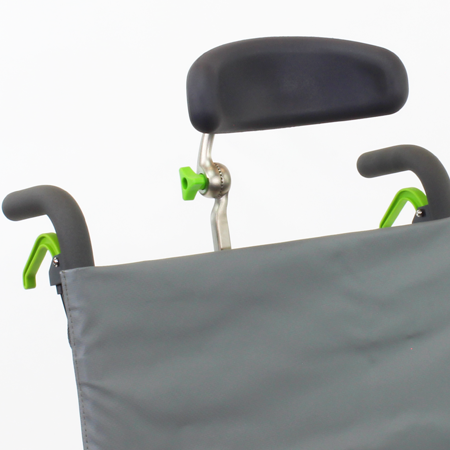 Headrest size is approximately 10" W x 4" H

Headrest is shaped to cradle the head and can be adjusted to fit looser or tighter

Headrest support can be adjusted infinitely forward and backwards within a 5½" range, and vertically within a 11½" range

Headrest angle can be adjusted for comfort

Headrest – small and mounting fixture are included with Raz-AT (Z300) and Raz-AT600 (Z360) chairs and optional on all other Raz models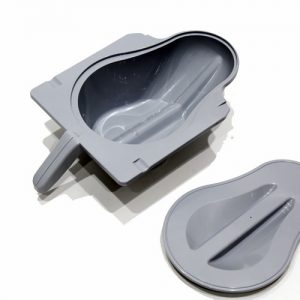 Injection-molded pan is designed for function

Includes a lid for splash and odor control

Wide handle angled at 45 degrees provides better ergonomics

Sloped front of pan moves contents toward the handle to reduce offset load, thereby making it easier to carry

Receiver brackets under seat are visible from the rear of the chair, making it easier to slide the pan into place

Fits in a standard autoclave and Arjo Tornado Washer
For more information on
Raz Mobile Shower Commodes