NXT Optima™ THORACIC
 BACK SUPPORT
The NXT Optima  and Optima Deep Thoracic Back Support was specifically designed for optimal pelvic positioning while providing proper support to the users thoracic region.
FEATURES
Deep, depth adjustable lateral contours for optimal midline support and positioning (DEEP models only)

One-piece lightweight aluminum shell

Lateral contours are higher, targeting better support in the thoracic region while maintaining optimal pelvic positioning.
WHAT'S INCLUDED:
One-piece lightweight aluminum shell
Depth adjustable lateral contours (DEEP Only)
Dual-density foam back cushion with smartGEL Infused Visco Technology –reduces surface temperature, drawing heat away from the skin providing superior comfort and softness.
Antimicrobial spacer mesh cover (washable)
One-Hand Quick Release
ACCESSORIES & OPTIONS:
Replacement cover and foam
Regular and Deep contour options

NXT Back supports incorporate our NEW smartGEL™ Infused Visco Technology.  SmartGEL technology, lowers the surface temperature to control micro-climate, improving skincare while enhancing comfort and support. When applied as the front layer of our NXT back supports, the smartGEL foam creates extra immersion and comfort, while the firmer layer of backing foam ensures support and prevents bottoming out into the back shell.
Introducing NEW smartGEL Infused Visco Technology
Comprised of a Visco Elastic foam that's been infused with gel, smartGEL incorporates its gel into the foam mixture at the molecular level. This allows for 100% homogeneous cooling with no breakdown of embedded gel beads.
Reduces surface temperature, drawing heat away from the skin
Provides superior comfort and softness
Highly resilient and long-lasting
Higher IFD (Indent Force Deflection and density)
The gel is 100% infused into the foam mixture vs. embedded "gel beads"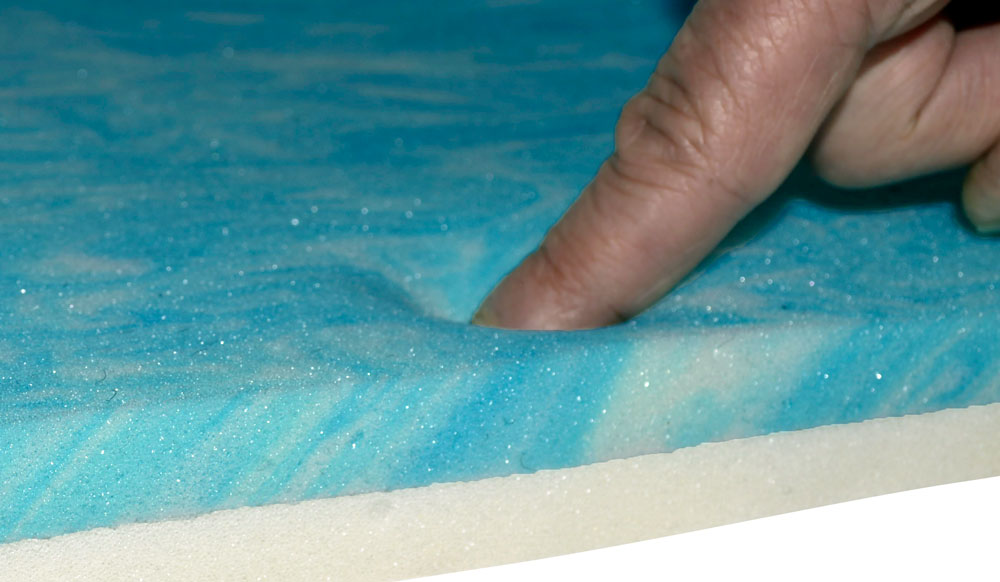 OPTIMA SPECIFICATIONS – INCH (CM)
OPTIMA / OPTIMA DEEP SIZES – INCH (CM)
NXT Seating Series Products are sold
all over North America and Internationally.