NXT Armadillo Back Supports
THE MULTI-ADJUSTABLE POSTURAL BACK SUPPORTS
NXT Armadillo Back Supports
WRAPS AROUND THE CURVES OF THE SPINE
NXT Armadillo with VICAIR Technology
ADJUSTABLE MULTIPLE POCKETS CONTAINING SmartCells

 The NXT
™ 
Armadillo Back Supports
The NXT Armadillo Back Supports are multi-adjustable postural wheelchair back supports which features a three-segment modular shell designed to adjust to fit the unique contour of the user's spine and to accommodate users with kyphosis and other spinal deformities.
NXT Armadillo Back Support with
VICAIR Technology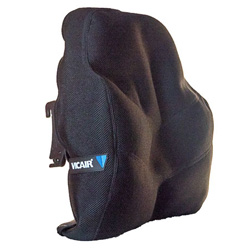 The NXT Armadillo Back Support with Vicair® Technology –  In addition to the features offered with the foam backed NXT Armadillo, this version of the Armadillo includes Vicair SmartCell technology.
NXT Seating Series Products are sold
all over North America and Internationally.